For those that don't know, the jet boat featured in out videos is a 2015 StealthCraft Power Drifter. Some of the original options on our sled included 16'x54" hull, kevlar liner bottom, matte carbon veil, full drift boat interior layout, 9'6" Sawyer V-Lam Oars, Minnkota Power Winch, and a Mercury 60/40 jet with the big tiller option.
She was lovingly named "The Plaid Kraken"
This boat has served us incredibly well, and honestly has been about as bullet-proof as you could expect based on how we ran it. It made treks into Northern Michigan, and as far south as Flamingo & Florida Bay in South Florida. It did it all, and did it well. But this season we knew we were going to as more from her than we did in seasons past.
So the first thing that needed to happen was we needed sone additional floorspace. The drift boat interior was great in some applications, but what we really found we needed was versatility. The rear seat box had become less used for storage & sitting and more of a nuisance. The seat was used as a grab bar during hairy runs and that's about it. We sent it up to the boys at StealthCraft who cut out the back seat, and re-gel coated the rear deck. When they were done it looked like it had never been there, & it gave us options for rigging based on what adventure we were planning.
Next up was an upgraded anchor mount post, and a switch from direct pull to a pulley system. The original Minnkota was only rated for up to 40 lbs of anchor weight, and some of the monster water we've got on the schedule just isn't going to work with that small of a boat-stopper. This new set-up lets us hang a 65lb pyramid off the front of the boat.
Next up was addressing the oars. We had been faithfully using a set of composite shaft 9'6" Sawyer V-Lams. To be honest they were great for bigger deeper water, but we found the long thin blades resulted in not much bite when it was needed most for us in shallow fast moving water. To top that the oars seemed a bit short, meaning that they had a pretty steep angle of attack in the water. We opted to go with something that was new to market but has been getting RAVE reviews: a Pro-Lok 10' oar system. For those unfamiliar, these oars are a completely different setup, and the full composite shafts and ride in a synthetic bushing assembly. What's even more amazing is that the entire shaft and blade assembly is something in the neighborhood of 3 pounds. That's not a typo.
The Jetboat Chronicles has ever pretended to be an alcohol free group, and in that vain we realized that there were not NEARLY enough places to set a beer when we made runs that didn't include leaving the leg braces in place (as each leg brace has 2 cup holders on it). We installed cup holders on the fore and aft decks. Seems simple, but honestly it's one of the best decisions we made. From holding pliers, shot, nippers... These things are the most effective & inexpensive upgrade we have done to date. We also went ahead and mounted our faithful bulldog beer opener onto the side of our Yeti to further ease access to bottled adult beverages. Twist caps are for hard lemonade and wine coolers.
So this piece isn't really an upgrade, but maybe should be considered more maintenance. The only shiny thing on this entire sled is the gorgeous gloss black Mercury outboard. Its cosmetic appearance has taken some serious abuse over the years. Most notably in 2016 when we attempted to take this 80" wide monster through some seriously backwater mangrove tunnels during our everglades trip. Between push pole scrapes & rogue mangrove branches she looked like a high schooler's jeep that had been keyed by an angry girlfriend. We broke out the orbital polisher, wet sanded the entire motor shell, and went to town. She still has some scars, but the results were definitely worth the time. While we were at it, we did an oil change, and cleaned up the jet foot grates and deep water fins.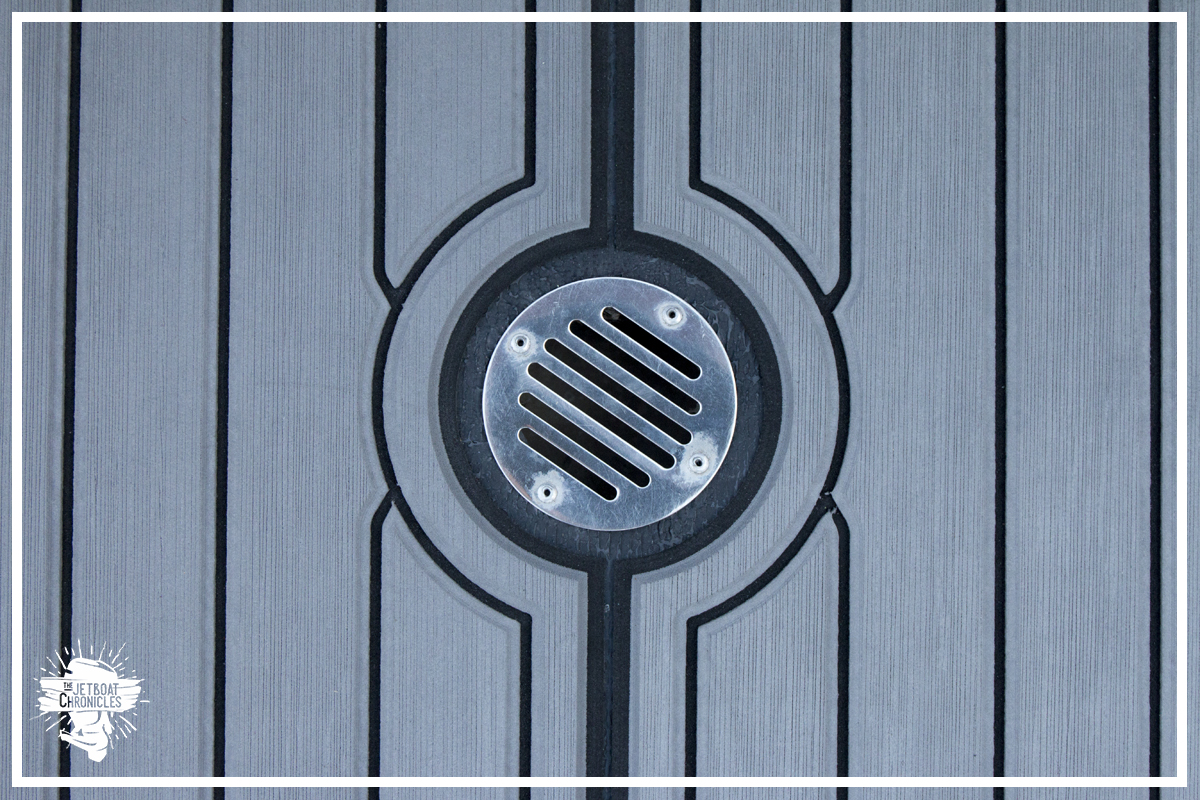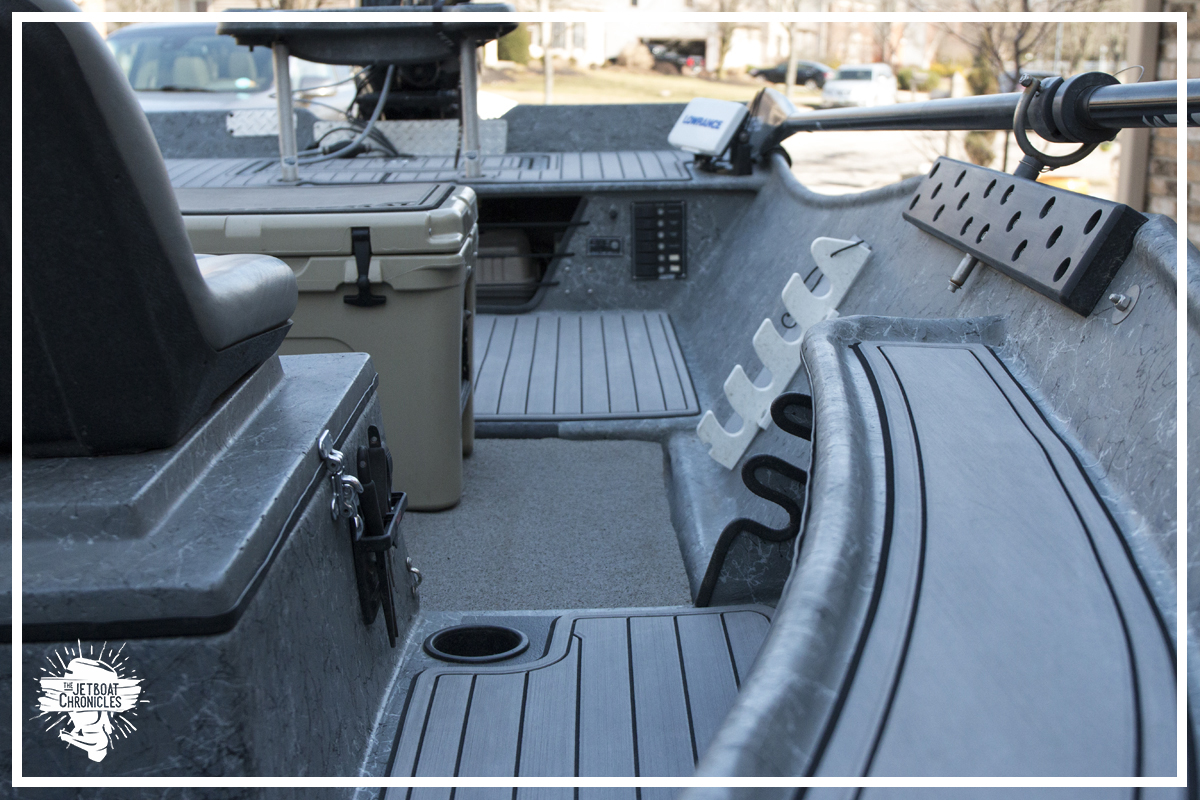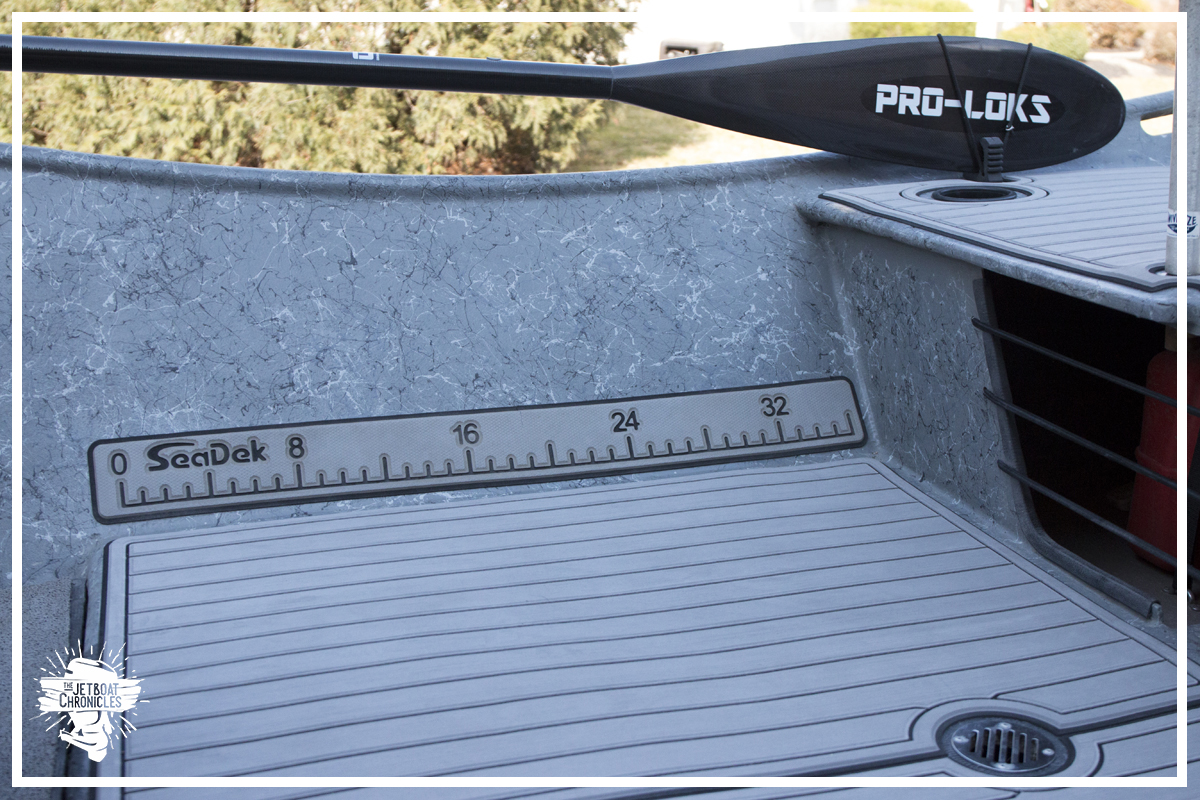 But the upgrade that everyone seems to have lost their mind about is the Marine Mat flooring. A while back I met a guy by the name of Alex Russell, who was operating out of the Everglades International Hostel. While the conditions of that trip are for another time, some years later Alex began working with Joe Welbourne and the team at Carbon Marine in Florida. Carbon Marine is a dealer for Marine Mat, a closed cell PVA foam material that is non-skid, and looks flat gorgeous. I reached out to Alex and we figured out how we could get a custom layout done for my StealthCraft even though we're here in the frozen North, and they're sipping Coronas in the sand.
So the work is done, the Plaid Kraken is as clean as she'll ever be, and the 2017 season looks like it is breaking early with 65* weather in mid-February here in middle America. It's going to be an amazing season.