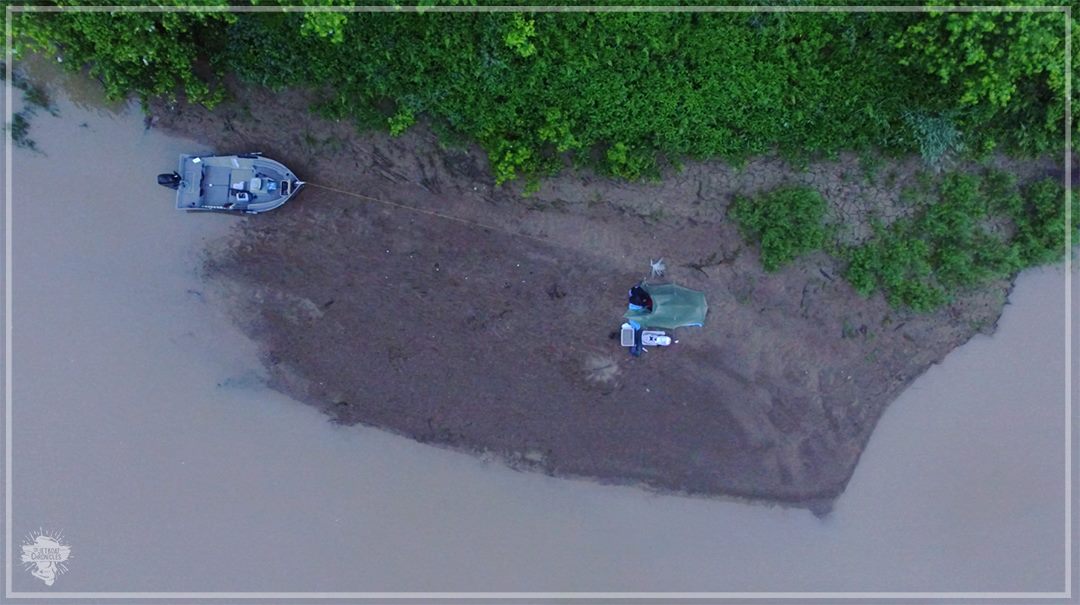 Every now and then we have someone tell us that "You did it wrong" or try to impress upon us that they catch more or bigger fish than we do. Well guess what: You've got us all wrong.
It was in that spirit that we found ourselves sitting around a campfire on a sand bar in Southeast Ohio drinking Jameson, 30 miles up a river during a storm front, watching a river rise and blow to brown, and not caring in the slightest. A great adventure is it's own reward.
Much of our spring here in Ohio has been a complete shit show for weather and Memorial Day weekend was no different. Several days in a row of light rain that saturated the entire state was polished off on Friday night with a massive storm cell that dumped multiple inches of rain over 2/3 of Ohio causing nearly every reasonable river to blow off the scales. Guides cancelled trips, friends bailed on weekend plans, but here at The Jetboat Chronicles, we simply revised our goals, and loaded up the truck. The new plan? Have no plan.
The next morning we dove back roads & dirt paths, followed rivers we had never paid any attention to, even stopped at an autocross track and had a conversation with the owner about using his track hoe to make a ramp out of the back of his property into a river that had no access. At one point we had to back up the trailer almost a full mile when a single lane road dead ended. In the end we followed blue lines on a map for 9 hours, finishing our trip a mere 2 hours from where we started.
We eventually launched the boat just up from the confluence of the Ohio River, and ran over 35 miles upstream in a river with a chalky green color and nearly 3' of visibility. There's something exceptional about running water you've never seen before. Every stretch of river is new, and the mind races with the possibilities that new water holds. Each uncharted wood filled bend is as much a chance for optimism about fishing as it is a death trap. It's the duality that keeps it interesting.
At the end of the day, fish were caught, beers were drank, and laughs were had, and we did it while people who surely knew more stayed home. There's always someone who has more knowledge, more experience, or more success... But I don't know many people who have more fun. We posted up on a sandbar, made camp, and laughed about the days adventures over a fresh bottle of whisky, and talked about how we wanted to approach the river in the morning.
While we camped, mother nature took hold and several more storms upstream washed copious amounts of mud into the river. We woke the next morning to water that had crept up its banks and worse, taken on the color of chocolate milk. Fishing was toast, but we hadn't made the run for the fishing. We made the run to be the first people to put a boat into the "Butts Run" tributary... But that's a story for another time.
In the end, don't lose sight of WHY you head to the river. Some people are always on the hunt for the biggest fish, others head out to make a living, but far more seek a moment of quiet and solace that only being in nature can provide. No matter why you fish, do it your way for your reasons. Just remember the next time you're boasting about your knowledge: You're saying you're smarter than people who spent 2 days, and over a hundred miles by truck and jet boat in un-fishable conditions to find Butt's Run. You're smarter than that. Congratulations.